Adult Hockey
Sharks Ice at Fremont is committed to providing the finest hockey programs. Sharks Ice at Fremont Adult Hockey League (SIAHL) offers three seasons: a Fall, Winter/Spring, and Summer league. Whether you are a beginner who just started the game, an experienced high level player or somewhere in between, Sharks Ice Fremont has a league for you.
Currently the SIAHL has more than 3500 players participating in over 170 teams and 12 divisions. The fall season will consist of 14 games while the winter/spring and summer seasons will consist of 15 games each. Following the regular season, qualifying teams will participate in a playoff tournament to determine division champions.
The SIAHL management stresses equal play at all levels of competition. They will scout your team for two preseason games. Based on management's assessment, your team will be matched up with other teams of equal ability to ensure a fun and challenging experience.
Sharks Ice at Fremont also features Stanley's Bar and Restaurant for late night food and drinks following your game.
Registering a team in the League
Team signups begin in August for the fall season, Decemebr for the winter/spring season, and April for the summer season. Please take a look at the current season flyer (link below) for more information. Team space is limited, divisions are filled on a first come, first served basis with priority to returning teams.
If you have a team of players and you are looking to place a new team in the league please review the document below for information on how to submit a team, how to manage a team in the SIAHL and FAQs for Captains.
All registration for current season must be done by using the online registration system. Please review the attached flyer to find out how to register team, have players pay towards team balance and view your team balance. New teams must email the hockey manager before submitting online registration for approval.
After registering your team, please send your players the payment instruction link that is listed below to pay off any team balance. (They will need your team code)
After reading the document, if you have any questions, please email Vaughn Reuter.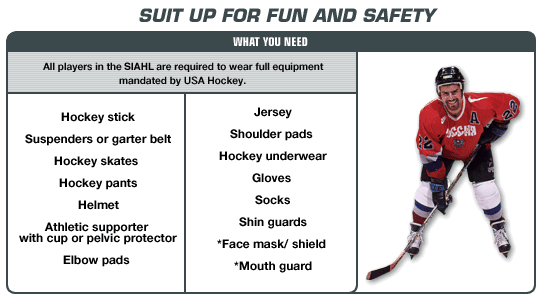 All players in the SIAHL are required to wear full equipment mandated by USA Hockey.
Hockey Stick
Suspenders or garter belt
Hockey skates
Hockey pants
Helmet
Athletic supporter with cup or pelvic protector
Elbow Pads
Jersey
Shoulder pads
Gloves
Socks
Shin guards
Face mask/shield and Mouthguard

All players must wear a full-face mask for all Divisions 6, 7, 8, and 9
All players must wear a full-face mask or half shield (with mouthguard) for Divisions 4 and 5
Players are not required to wear a full-face mask, half shield or mouthguard for Divisions 1, 2, and 3
Please reference SIAHL league rules for more complete player and goalie requirements.
Game locations, times and nights
All games will be played at Sharks Ice at Fremont. The intermediate division plays on Tuesday/Wednesday Nights and the Upper Novice plays on Sunday/Monday Nights. Teams may occasionally play games on additional nights.
Team Uniform Packages Available!
Solar4America Ice Adult League Teams are required to outfit their teams in numbered Home and Away jerseys. Customize a new set of jerseys for your team in our Pro Shop! Design any logo you want and we will work with you to find the perfect jerseys, socks and pant shells for your team. We will provide you a proof and price quote for each product, for your approval.
Guaranteed lowest price you will find for the same set. No charge for proof or quote. Contact Jay Humeniuk at humeniuk-w@aramark.com to begin your new team look!
New Online Waiver

Players must use their current usa hockey numbers and fill an online waiver. This waiver is good for every team in the current season.